Tiffany & Co Black Lebron James Jacket
April 15, 2023
Tiffany & Co Black Lebron James Jacket
Product Specifications:
External material: Wool and leather
Inner material: Soft viscose fabric lining
Collar: Rib knitted style collar
Closure: Front snap tab buttoned closure
Sleeves: Long leather sleeves
Cuffs: Rib knitted cuffs
Pockets: Two welt pockets on the waist and two pockets on the inside
Color: Black color
Lebron James is a professional basketball player who collaboration with Nike, a popular athletic brand. Here's a description of the Lebron James Nike Jacket:
The Lebron James Nike Jacket is a stylish and functional piece of outerwear designed for athletic performance and comfort. The jacket is made from a durable, lightweight material that wicks away sweat and moisture to keep you dry during intense workouts or outdoor activities.
The jacket features a full zip front with a high collar that can be zipped up for added warmth and protection. The cuffs and hem are ribbed for a snug fit that helps keep out the cold. There are two zippered pockets on the front of the jacket, providing secure storage for small items.
The jacket's design is sleek and modern, with a black base color and contrasting white and metallic silver accents. There is a Nike logo on the left chest and a Lebron James logo on the right chest, both embroidered in white. The back of the jacket features a large graphic print that combines the Lebron James logo with a unique, abstract design.
Overall, the Lebron James Nike Jacket is a high-quality piece of outerwear that's perfect for athletes and fans of Lebron James. Its stylish design and functional features make it a versatile choice for any occasion, whether you're hitting the gym or just running errands.
20% Off & Free delivery - CODE: DEAL2023
MEN'S JACKET SIZE CHART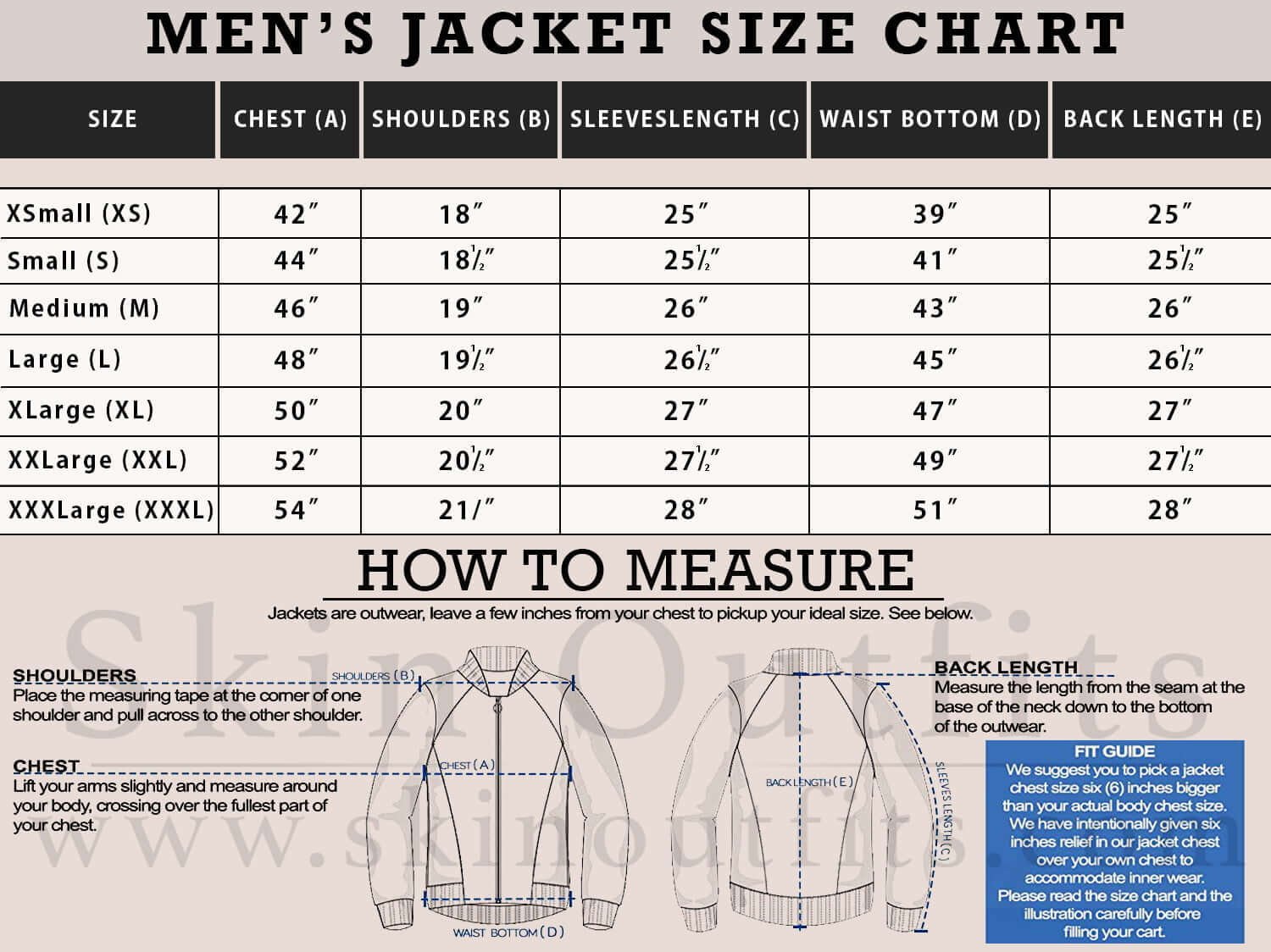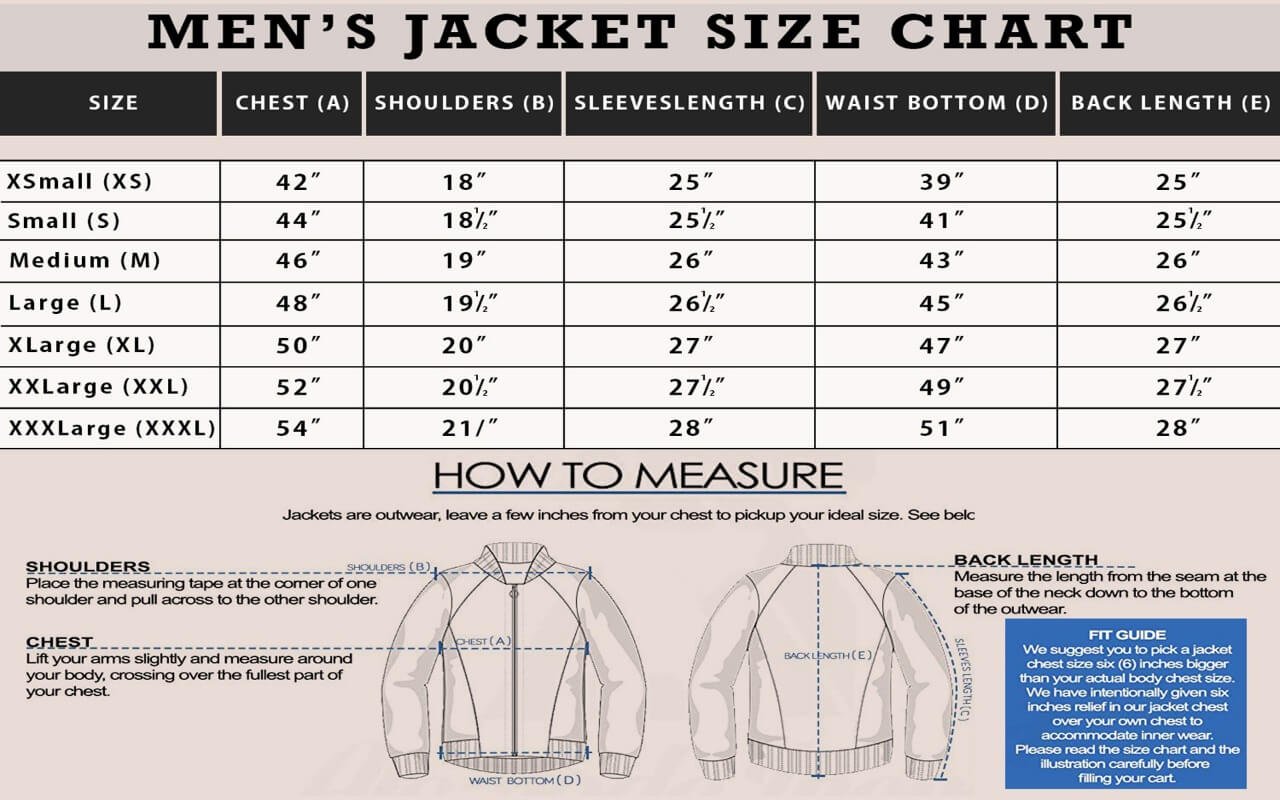 Men Jacket Chart Size
Looking for a jacket that fits your body like it's made just for you? We've got you. Skin Outfits provides you a complete range of sizes in its men coat chart size/men jacket chart size. Also, we give you the easiest way to measure your body because all your measurements are taken close to the body. Also, make sure you're not measuring over regular clothes or jackets.
Men's Measurements
Please follow the men coat chart size/men jacket chart size below to measure your size.
Chest: The chest is the major part of your measurement for the jacket. You must first stand up and then relax your arms. To have a better measurement, ask someone else to wrap the measuring tape around your chest. Make sure there is an inch space for the tape to move. For a regular fitting jacket, you may add an inch more.
Shoulders: Relax your shoulders and ask someone to measure using the tape from one shoulder end to another.
Sleeve: To measure sleeve length, bend your arm and lift it over the chest so you are able to touch your nose with your hand. From the bottom of the neck to the elbow and then to the wrist bone, measure thoroughly.
Waist Bottom: You will measure the waist as you've measured the chest, but with the exception that you'll take measurements from around the waist.
Back Length: You can measure the back length by starting from the seam of the base of the neck to the bottom of your waist.
Please note that whenever you're going to choose your jacket using our men coat chart size/men jacket chart size, we suggest you pick a size that is two inches bigger than your actual size.
Tiffany & Co Black Lebron James Jacket