Scrolling through the internet because there is a  flash sale going on, too good to be ignored,
"Oh, this looks great, price is crazy cheap, and reviews are amazing too."
Though, before adding to the cart, there is one task left: choosing your size.
Um, a little confused about what size you wear? Or that maybe the size chart of that e-store varies from the one you usually buy from?
This body measuring guide aims to help all such confused souls;
Know the measurement scales of a few essential closet items and find clothes that are your exact fits.
Keep your paper, pencil, and a body measuring tape- and maybe a friend- ready, and let's get started.
Must-haves for Men Dressing
Formal Suit
Formal suits are vital, especially if you plan to rule the world with your allure, confidence, and charms.
To select the perfect suit jacket that fits you like your skin and has you looking like a complete debonair, you begin with your chest measurements.
Stand straight with your arms hanging straight at your sides.
Measure the fullest area of your chest, below your underarms
Have the measuring tape parallel to the ground
Add an inch to the measurement in case you'd prefer a slightly loose-fitting.
This is your jacket size.
Moving to what your ideal formal dress pant size is,
You don't know? Not anymore; let our body measuring guide help you find out.
First, follow the pointers below and measure your waist.
Bend to one side and see the area where your waist creases.
Measure around your waist in this area- it's just below your navel.
Have the measuring tape parallel to the floor and hugging your skin- not too tight and never too loose.
Step two is that you know what drop you prefer. It's the difference between the number you got from your chest measurement and your pant size.
After this, all you are left with is to have your tailor add a break.
Full break: Hem of the pants reaches the top of your shoes' heels. Very elegant
Half break: Hem of the pants covers half of the back of your shoes. A chic look
No break: Hem of the pants ends above the shoes. Make sure you wear some super classy socks.
Leather Jacket
A mighty precious investment in clothing is a good leather jacket.
Snug to wear, iconic in style- oh and not to mention that distinct leathery scent. Wear the all-time-trending Brown biker leather jacket and be the star of the night. Ooze that hidden David Gandy's masculine and rugged charisma.
Know that size is essential for jackets- to display your muscles and emphasize on your broad shoulders.
Here's how to find your dream jacket:
For the chest, measure around the fullest area of your chest
Measure from the corner of your shoulder to the other shoulder for the shoulder-to-shoulder size.
For the waist size, measure the slimmest part of your waistline
Lastly, to see your hip size, measure the most filled-up part of your hips.
Jeans
Next up in our body measuring guide,
The highlight of every man's wardrobe: a pair of good jeans. Form-hugging, deluxe-looking, and comfort-bearing; all qualities of a pair of jeans stitched just for you.
Want to find one for yourself? We'll tell you how.
Measure your waist size above the hipbone over your shirt- but not over your pants.
Have the measuring tape snug and cozy- not too light, though.
Measure your inseam: stand straight with legs 6 inches apart.
Measure the inside of your leg- from the crotch to the bottom of your ankle.
Pro-tip: You're on the borderline, stuck between two sizes, go for the larger one. Trust us!
Must-haves for Women Dressing
Jeans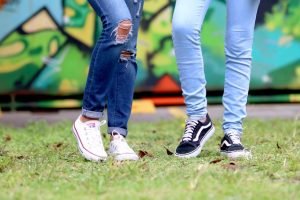 Ladies, drill it in your minds,
Good jeans take you to great places. Why not? Flaunt your goods and build your confidence with the perfect fit for you.
We'll guide you for the next time you're stuck looking at size charts, feeling as if you're reading some foreign language. Trust us, and it's just three steps:
Measure your natural waistline to get the waist size.
For the inner leg, measure from the top of the inner thigh at the crotch, till your ankle bone.
For the hip, simply measure the fullest part of your hips.
Skirts
Sexy, snug, and soft; skirts are women's best soul mates. Go from ordinary to extraordinary with just a pair of pretty and elegant skirts. Steal hearts left and right as you slay a skirt like a true princess.
Though, before that, you've got to know what the right size of the skirt is for you. Too long or too short of a skirt will underwhelm our overall attire, and we don't want that now, do we? Measure skirt like a true seamstress in 2 quick steps, according to our body measuring guide:
For the waist size, measure around your natural waistline.
For the hip size, measure 20 cm down from your natural waistline.
Leather Jackets
Classic comfort is what a leather jacket brings to women. Unbeatable class, poise, and glamour,
That's what you get and more, as you adorn a deluxe Victoria Brown Distressed leather jacket on.
But some ray-bans on and be the royalty of the event, because we will guide you on how to pick a jacket meant for your body:
For the chest measurement, stand straight and have your friend measure around your chest area. Ideally, add another inch if you're going for a little loose fit. (Avoid this if you're going for a total bombshell-look though)
For hip measurement, measure around the fullest part of your buttocks.
For the height size, take off your shoes, stand straight and then measure, from head to toe.
Final Word
By now, we do hope size charts and measurements do not seem like alien languages to you and that,
Our body measurement guide was a success.
Had fun cracking the Morse code of measuring? We certainly did, teaching you the simple steps. Order your closet must-haves right away and face no issue in online shopping anymore!