Sitting in your armchair and wondering what to wear to the party next?
Flabbergasted, while you sip on that martini, how could you make sure that your current wardrobe can help you rule the fashion roost?
Well, here is one simple hint, Leather jackets.
Yes, you heard it right, life sure can hand you lemons, sell them and buy a leather jacket from our suggestion of the best leather jackets to shop from.
Leather Jackets- your key to rule the fashion scene
If you don't have a leather jacket, you are really missing out. A leather jacket will be one of the most significant investments you will ever make in your life.
But before you go and buy yourself one, choose the type of leather jacket you will prefer. Don't worry, I got your back and got 7 best leather jackets to shop for so that you can rock.
Be the bomb with Bomber Jacket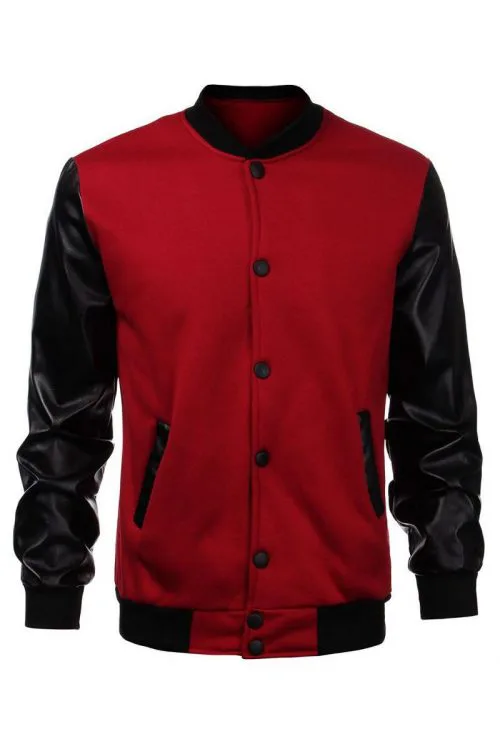 I don't know about you, but I have heard of these jackets being worn by everyone, literally everyone. And honestly, it's no surprise.
This short outwear has a ribbed waistband and matching cuffs with a zipper front and four pockets at the top and the sides. Not only is it made from leather, but it can be made using nylon, cotton, and polyester.
Back in the day, these jackets were made to be worn and protect yourself in freezing weather. This is still the case now, but it has improved with time and now can be worn not only in frigid climates.
Their faux fur collars are usually made to provide you with some warmth and comfortability.
More popular than other types, bomber leather jackets have been worn by numerous celebrities and has become a fashion trend. So what are you waiting for?
Rock it out with the Biker jacket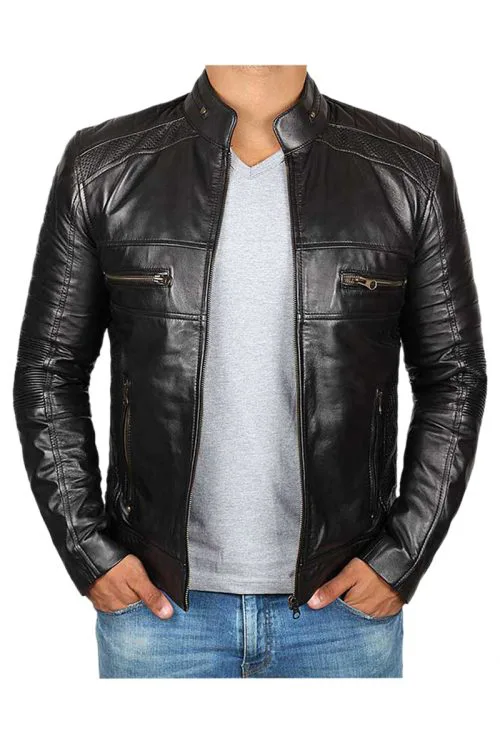 Genuine Leather Biker Fashion Black Jacket For Men
As the name suggests, these are jackets worn by bikers. That's right. But that doesn't mean it is only restricted to them – no, no, nothing can stop you from wearing it. And nothing should.
These lovely leather jackets are made with premium quality leather ad have long sleeves, shirt style collar, zipper cuff, and armored shoulders. These are made to provide some safety to the bikers while they ride their bikes. They don't need to worry about their jackets; the only thing they should worry about is riding.
These jackets are a great way to enhance your outfit. All you have to do is slung them over your shoulder, and you are done.
And no, they are not only for men. All you women out there, don't be shy and get yourself a biker jacket.
One of the best types of leather jackets to get – comfortable and smokin' hot.
Show those toned muscles off with Slim-fit leather jacket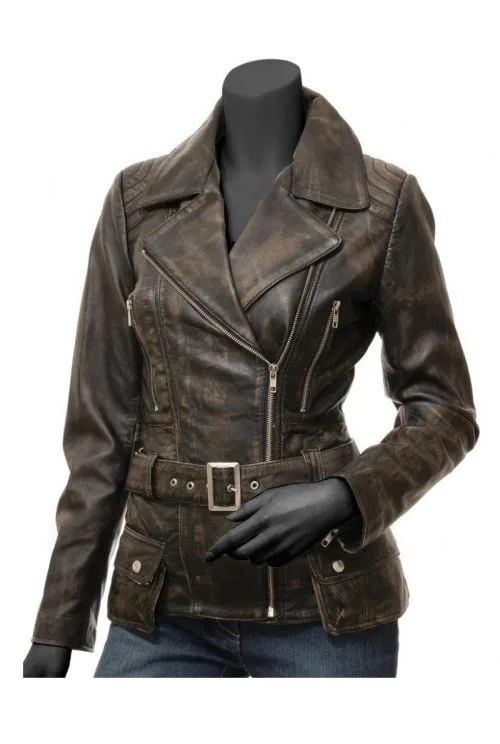 Victoria Brown Distressed Leather Jacket 
Maybe you have heard of this, and perhaps you haven't. But hey, now you have.
So, slim fit leather jackets. Evident from the name, these jackets will be fitted and tighter than a regular jacket that you have seen.
Guys, if you want to look buff and like you got an athletic build, this one is for you. People with a muscular body will definitely know this one. This gorgeous jacket will enhance your features, and you're ready to impress anyone or everyone.
What's better? It's lightweight. You don't have to feel like you got something heavy on you.
Sauve and classy with Double rider leather jacket
Comes under the category of a biker jacket but isn't less to not be its own category.
The double rider leather jacket is the ultimate jacket used for that bad boy look that you all look for. Its stylish and historic features will make you fall in love with this bad boy.
Although similar to the other leather jackets, it has still got its own style. It has an epaulet attached to its shoulder (inspired by military fashion). The belt on the waist is there to protect you from the wind. The jacket's asymmetrical zipper is something that will make this jacket the one you entirely and totally fall in love with.
The jacket gives an aesthetic vibe, which, let's be real, we all love.
Tom Cruise it with Flight jacket
Justice League Fur Collar Brown Bomber Leather Jacket 
It's pretty cool that almost all the jackets' names reveal what they are actually like and what they were meant to be.
So, the flight jackets were made for the pilots who had to travel in airplanes without the enclosed pit. Gradually, it evolved into the gorgeous piece of leather jacket that it is today.
Needless to say, it is the dad of all jackets. It's bulky and provides you with the right warmth that you may need.
Just wear a straight trouser and a T-shirt with this jacket on top, and you're good to go.
Sober and Sultry with Field Jacket
Sex Education Otis Milburn Jacket
Field jackets – a very underrated classic, in my opinion.
Initially rendered in a cotton drill fabric, this jacket is now available in leather as well. It is longer than the other styles that we have seen and mentioned and has multiple front pockets and a belt at the waist.
This jacket will not only enhance your appearance but will give you the comfort and shield from various elements.
And if you ask me, it looks especially good in the brown color.
It's the perfect style to have in winter, and even better if you live somewhere in the countryside. Get yourself fitted jeans and a cute pair of boots with this field jacket on top, and you will be looking the best you ever did.
Faux leather jackets-setting you apart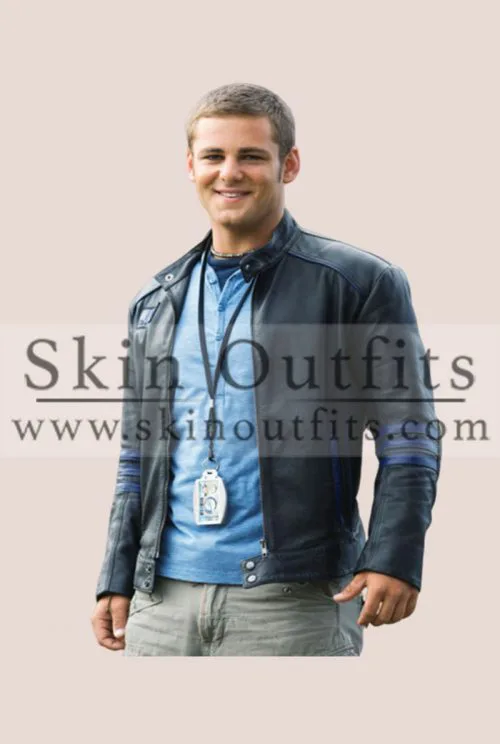 Power Rangers RPM Flynn Jacket
This animal-friendly jacket isn't made from the leather to protect those precious little animals. So if you are looking for something animal-friendly, this is for you.
Although it won't be as good as the real leather (of course), it is not horrible.
It is thinner, which is excellent if you don't want something heavy and will allow you to breathe and not drown you in your own sweat. It will also probably not last as long as a real leather jacket would.
Obviously, nothing can compare to the feel of the real leather jacket, but this faux leather jacket can come slightly close to it and is much more weather-resistant and will keep you warm.
Final thoughts
Now that you know which are the best leather jackets to shop and best leather jacket styles, you are ready to go and get yourself one. Or if you already have them, you are prepared to choose the best one out of them to go out and get everyone's head-turning and their mouths talking about you.
Besides, any type of leather jacket you wear, they are always going to look good. So what are you waiting for?