Your clothes speak volumes about your personality. A great wardrobe and great style do not mean you need to invest in a truckload of expensive clothes and accessories. What makes a great wardrobe are well-chosen and well-thought-out items that fit your lifestyle, taste, requirements, and budget. Revamping your wardrobe is an exciting endeavor and not as intimidating as some may perceive it to be. All you need is a little bit of guidance on how to do it right. Luckily, we are here to help. The following is a brief guide on how you can revamp your style and your life.
Classic Over Contemporary
Trends are fun, yes, but keeping up with them is exhausting, to say the least. Contemporary fashion is disposable. Your style should lean more towards timelessness as opposed to trendiness.
Revamp your style by opting for classic fashion picks
over contemporary ones. Not only is this practice easier on your wallet but also on the environment as well. Your beauty is timeless, as should be your style. Perfect examples of versatile and classic pieces are the
Chloe Decker Lucifer Coat
and the
Theron Atomic Blonde Charlize Coat
from SkinOutfits. Style them with something as simple as a pair of everyday denim and a plain white tee and you are ready to head out the door. Coats in fact are so versatile you can sport them over anything from a dress to formal wear even.
We all own way too many clothes for our own good. Digging out the one item stuffed between a thousand other pieces you never actually wear is an exhausting feat. When things exceed your control, you know it is time to declutter your closet. Parting with belongings is tough, but it has to be done. Get the out-of-season items out of the way and store them in boxes. Give away the clothes you have not worn in over a year or more. Decluttering not only makes space in your closet but in your mind as well. No one likes a messy space.
We all dream of dressing in bold colors, eccentric prints, and larger than life silhouettes. Well, if you wish to revamp your style, stop dreaming, and start acting. Step out of your comfort zone and try on that multicolored sequin jacket and those red knee-high leather boots. You do not have to stray too far from your personal style. Maybe just amp it up a little. Add some color or sparkle to your ensemble. Dress to impress. Go big, go brave, and go bold; it is now or never. If you are looking to experiment, try your luck with our
Gothic Purple Trench Long Coat
. The thing with bold pieces is that you must allow them to have the spotlight. Make sure to style them in a way that they stand apart from everything else. The simplest way to ensure a killer look is to sport it with a monochrome outfit.
Fast fashion may seem affordable, but not in the long run. While the price tag on fast fashion picks is not as heavy on the pocket, it is on the planet. It is our responsibility to be mindful of the choices we make and how they may impact our home i.e., Mother Nature. While it may seem that our individual actions could not possibly affect the greater world, but it does. Ditch fast fashion and opt for sustainable fashion instead. These timeless pieces are not only environmentally beneficial, but they are also incredibly chic and stylish. Make sustainability a priority. An excellent pick is our timeless
Victoria Brown Distressed Leather Jacket
. A brown leather jacket is probably the most versatile outerwear item you can invest it. Wear it over a pair of worn-out jeans and a tank top, over a skirt or dress, or perhaps with a crisp button-down cotton shirt and tailored dress pants; the options are endless.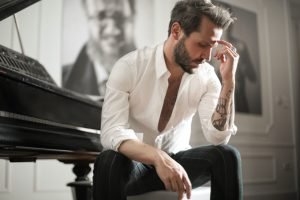 We are all about flaunting your own personal style. However, finding your personal style task is no easy task. Make the process easier. Seek inspiration from your fashion idols to channel creativity in your everyday style. Look into famous style icons, watch old Hollywood classic films, simply browse through Instagram and Pinterest, or flip through magazines. Find a style icon that
embodies your style aspirations
.
Experiment With New Pairings
If there is one way to update your style without trying too hard or splurging your savings, it is by experimenting with new pairings. Mixing and matching may seem like an arduous ordeal. It is easy to get into a style rut, but it is equally easy to come out of one. Seek inspiration online and try out different pairings to see what works. Try mixing different colors, prints, and styles, to create entirely new outfits out of things lying in your closet. Use accessories wisely to spice up your look because they pack on a greater punch and a less expensive way to make your everyday attire look new. If you wish to experiment with new out-of-the-box designs, opt for something like SkinOutfit's
Fantastic Beasts Queenie Coat
. Mixing and matching with different designs is a process, to say the least. Try out different options. If something does not work with a dress, try it over jeans or shorts even. See what works and use it.
Jewelry is the easiest way to amp up your look. Much like your shoes, bag, and clothes, jewelry is an essential accessory. The only difference with jewelry is that it requires a little more thinking. Know what piece of jewelry works with what kind of outfit. Try mixing your metals. Transform your basic everyday looks into something special with a little bit of bling. Whether it is a pair of statement earrings, an eye-catching necklace, or a stunning piece of arm candy, jewelry never disappoints.
Revamping your style is not as hard as it may seem. To put it simply, just do what you want. In the process, however, remember to take care of yourself. Self-care is a critical component of your style. Another thing to remember is to flaunt what you wear with confidence. After all, there is nothing quite as stunning as a woman who struts her stuff with confidence and poise. Keep an eye out for exciting new offers at
SkinOutfits
.