Christmas Joe Peterson A Veteran's Brown Jacket
$149.00
Christmas Joe Peterson A Veteran's Brown Jacket
Best outfit available with unique style present at Skinoutfits.com
Sean Faris A Veteran's Christmas, a romantic comedy film directed by Mark Jean, served as the model for the A Veteran's Christmas Jacket. The narrative centres on Grace Garland and Joe Peterson, two strangers. When Grace's jeep breaks down as she is travelling to Cincinnati, Joe Peterson, a local judge, offers his guesthouse while her vehicle is fixed. They become closer as they spend time together. Sean Faris played the role of Joe Peterson in the film. Throughout the event, he has been seen looking amazing in this gorgeous jacket.
This Christmas Joe Peterson A Veteran's Brown Jacket is made out of a strong, genuine leather material and is lined on the inside with viscose, which keeps moisture away while providing you with a tone of warmth and comfort. The round neckline collar, long sleeves with open hem style cuffs, front zippered fastening, and well placed pockets to provide simple accommodation of your needs are also among this outfit's most expressive characteristics. It has a lovely brown hue that gives it a strong, opulent appearance. This jacket is primarily adaptable in terms of design, distinctive in meaning, and ideal for a variety of settings. Get this Christmas Joe Peterson A Veteran's Brown Jacket exclusively from Skinoutfits.com
Specification:
Inspired by: Sean Faris
Outside Material: Real Leather
Inside Lining: Viscose Lining
Front Closure: Zipper Closure
Collar Style: Snap-tab Collar
Color: Brown
Sleeves: Full-length Sleeves
Pockets: Two Outside and Two Inside
Checkout our amazing products at Amazon-skinoutfits
20% Off & Free delivery - CODE: DEAL2023
MEN'S JACKET SIZE CHART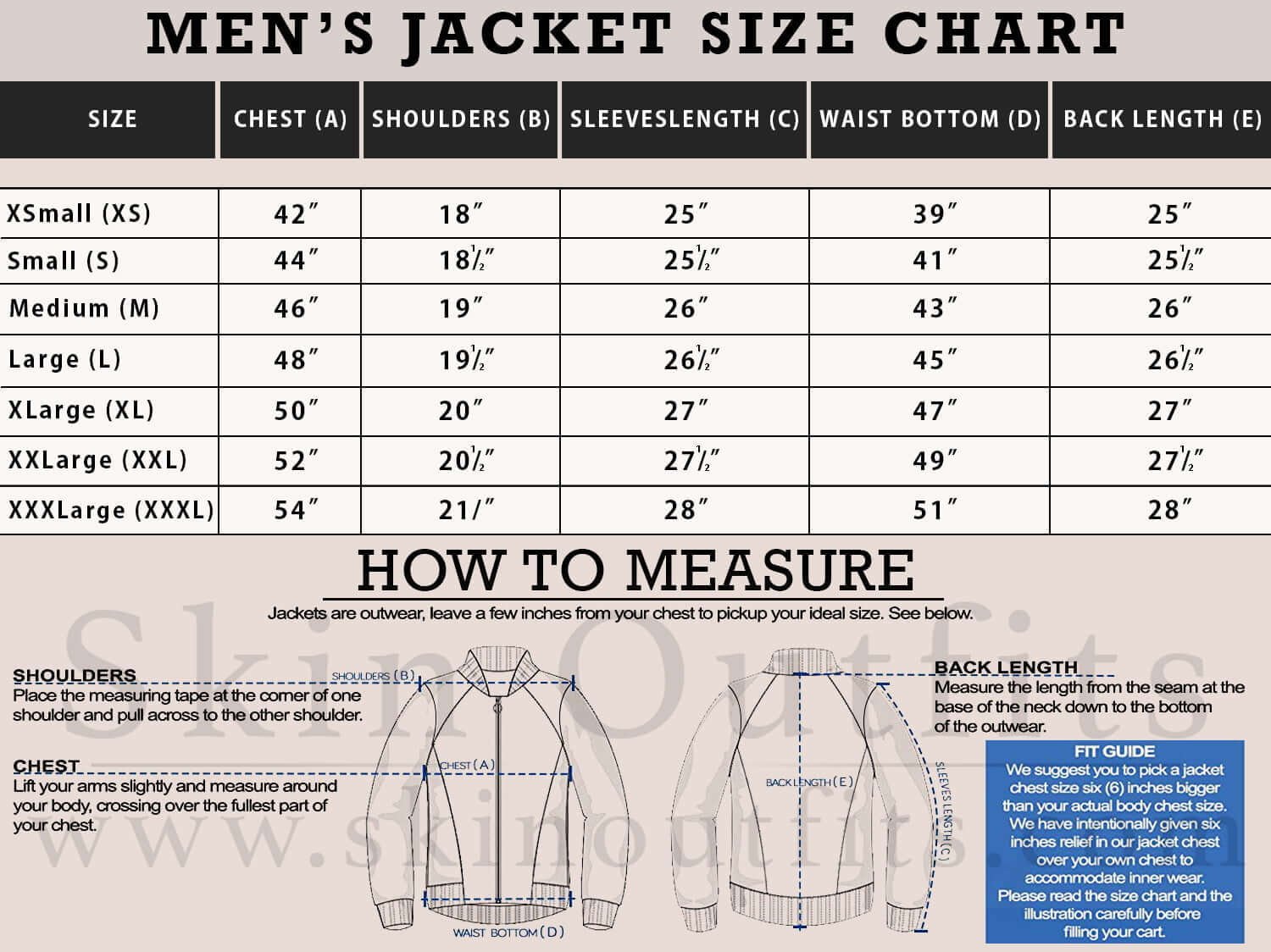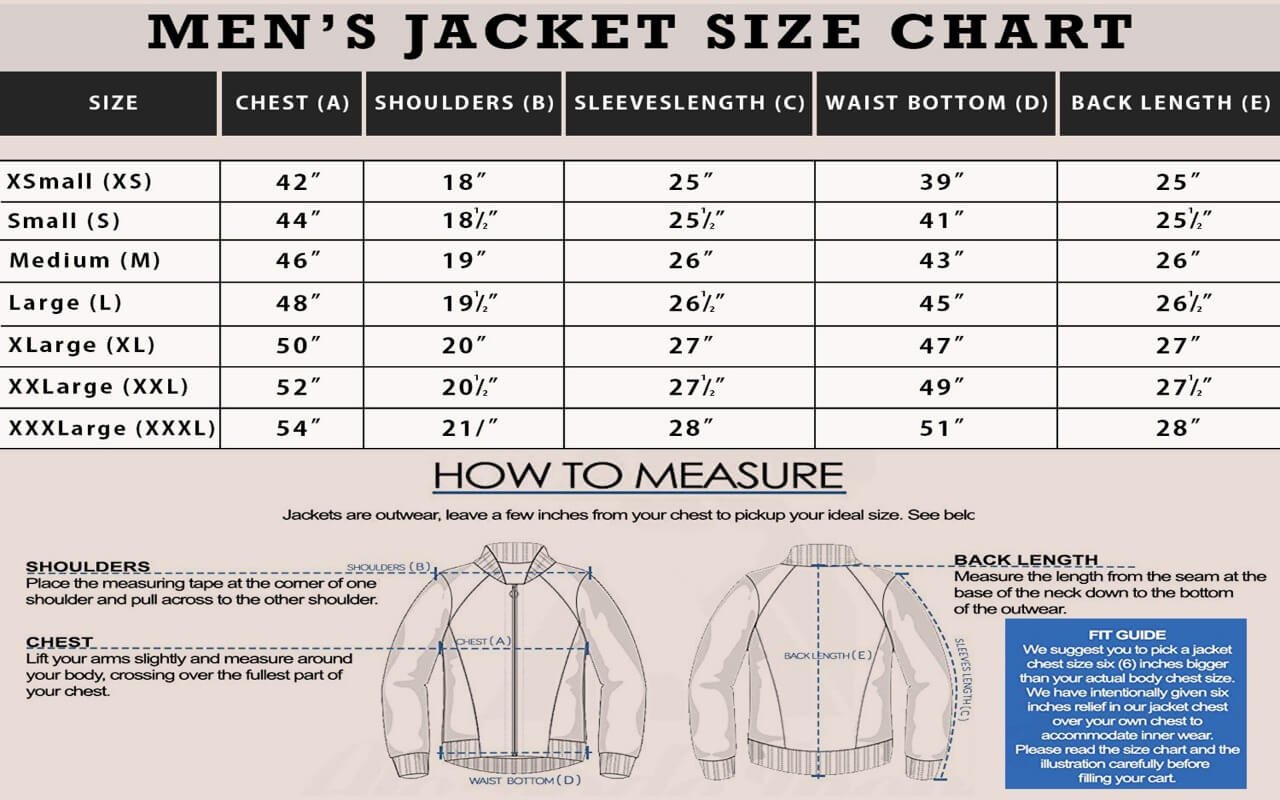 Men Jacket Chart Size
Looking for a jacket that fits your body like it's made just for you? We've got you. Skin Outfits provides you a complete range of sizes in its men coat chart size/men jacket chart size. Also, we give you the easiest way to measure your body because all your measurements are taken close to the body. Also, make sure you're not measuring over regular clothes or jackets.
Men's Measurements
Please follow the men coat chart size/men jacket chart size below to measure your size.
Chest: The chest is the major part of your measurement for the jacket. You must first stand up and then relax your arms. To have a better measurement, ask someone else to wrap the measuring tape around your chest. Make sure there is an inch space for the tape to move. For a regular fitting jacket, you may add an inch more.
Shoulders: Relax your shoulders and ask someone to measure using the tape from one shoulder end to another.
Sleeve: To measure sleeve length, bend your arm and lift it over the chest so you are able to touch your nose with your hand. From the bottom of the neck to the elbow and then to the wrist bone, measure thoroughly.
Waist Bottom: You will measure the waist as you've measured the chest, but with the exception that you'll take measurements from around the waist.
Back Length: You can measure the back length by starting from the seam of the base of the neck to the bottom of your waist.
Please note that whenever you're going to choose your jacket using our men coat chart size/men jacket chart size, we suggest you pick a size that is two inches bigger than your actual size.
| | |
| --- | --- |
| Size | X-Small, Small, Medium, Large, X-Large, XX-Large, XXX-Large |