Suicide Squad Joker Purple Trench Coat
March 1, 2018
Suicide Squad Joker Purple Trench Coat
What do you do when invited to a Cosplay in winters? You opt for this trendy Jared Leto Joker Coat which is a perfect balance between festivity and subtlety. Our villains surely know how to create an impact! This monochromatic trench coat is an inspiration taken from Jared Leto in his 2016 movie 'Suicide Squad.' The full sleeve, A-line coat is an exclusive piece for your wardrobe. The intricate crocodile design drenched in flashing purple color should be on your buy list for sure!
20% Off & Free delivery - CODE: DEAL2023
MEN'S JACKET SIZE CHART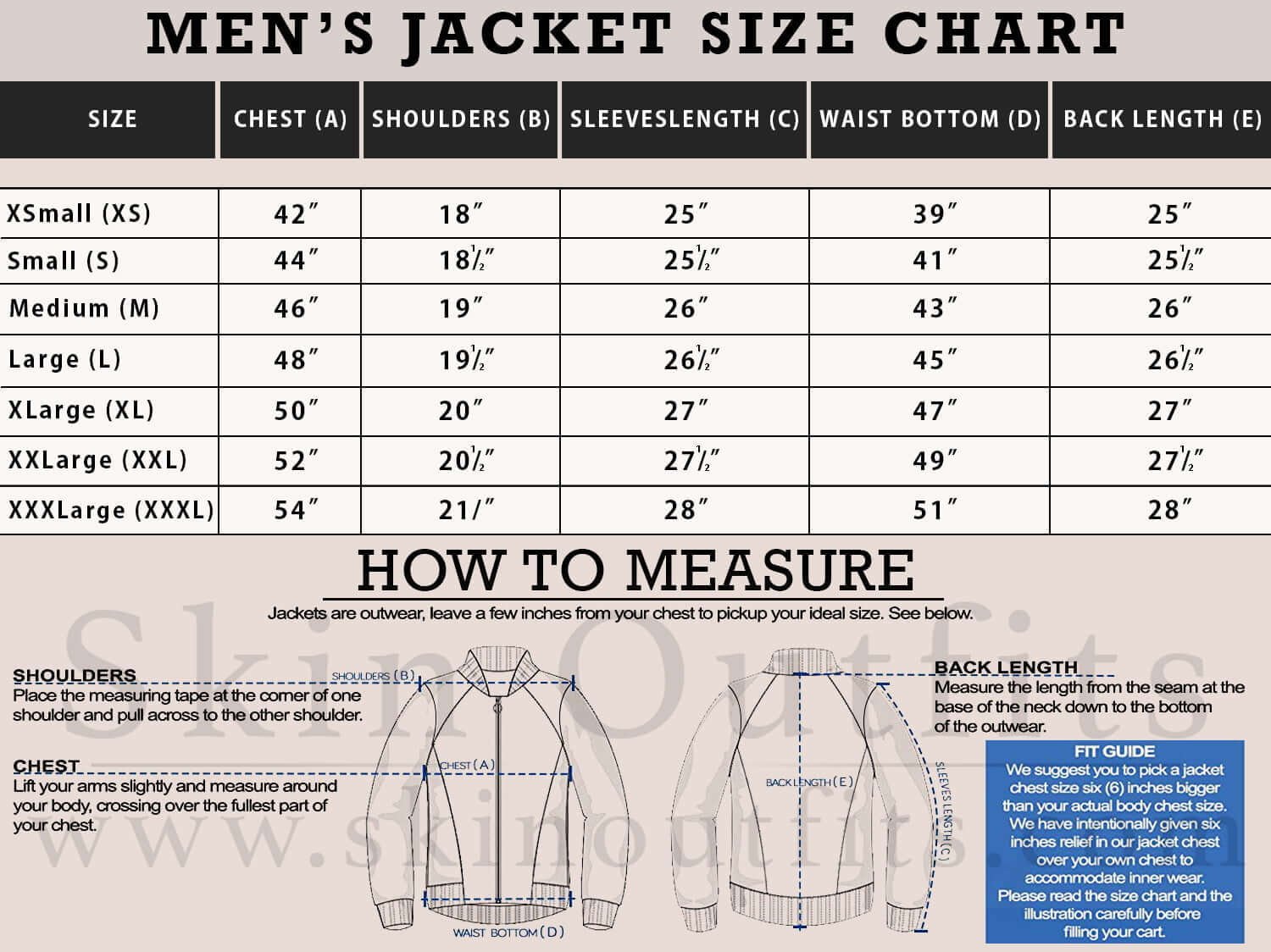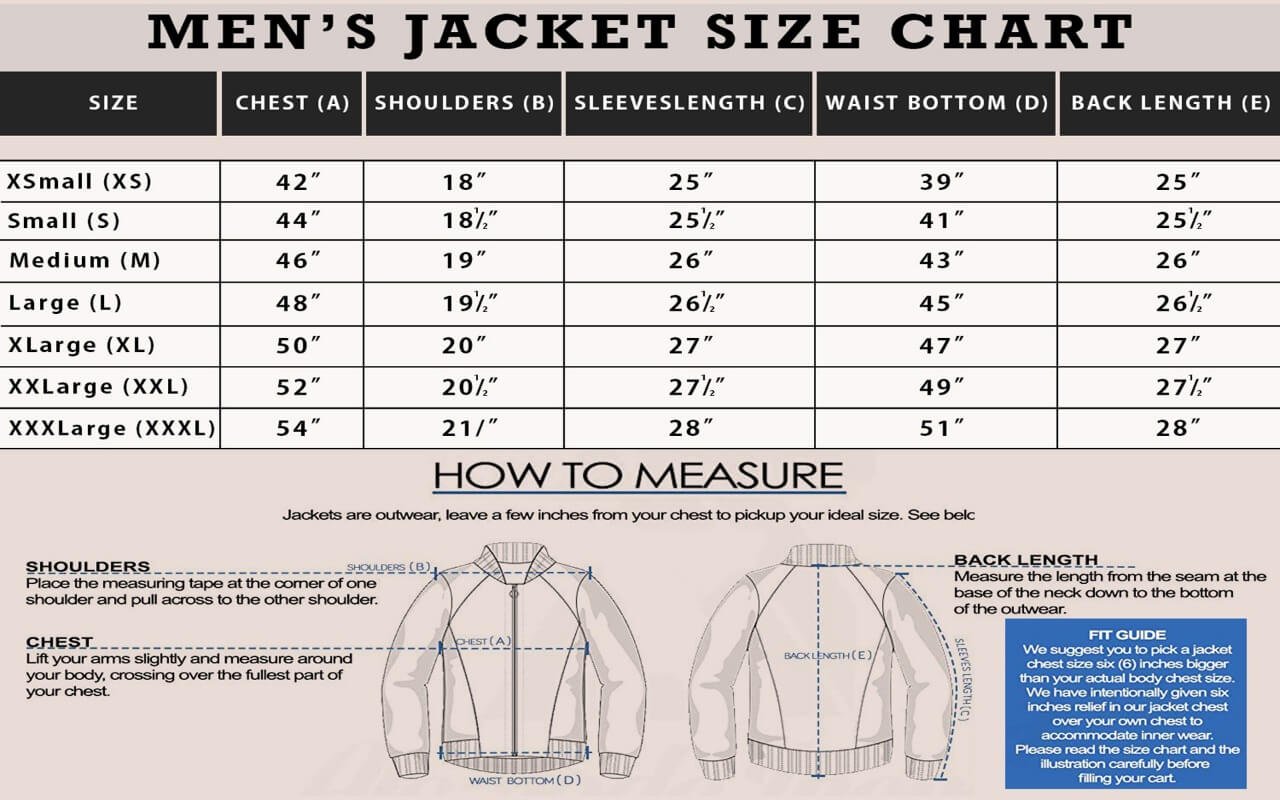 Men Jacket Chart Size
Looking for a jacket that fits your body like it's made just for you? We've got you. Skin Outfits provides you a complete range of sizes in its men coat chart size/men jacket chart size. Also, we give you the easiest way to measure your body because all your measurements are taken close to the body. Also, make sure you're not measuring over regular clothes or jackets.
Men's Measurements
Please follow the men coat chart size/men jacket chart size below to measure your size.
Chest: The chest is the major part of your measurement for the jacket. You must first stand up and then relax your arms. To have a better measurement, ask someone else to wrap the measuring tape around your chest. Make sure there is an inch space for the tape to move. For a regular fitting jacket, you may add an inch more.
Shoulders: Relax your shoulders and ask someone to measure using the tape from one shoulder end to another.
Sleeve: To measure sleeve length, bend your arm and lift it over the chest so you are able to touch your nose with your hand. From the bottom of the neck to the elbow and then to the wrist bone, measure thoroughly.
Waist Bottom: You will measure the waist as you've measured the chest, but with the exception that you'll take measurements from around the waist.
Back Length: You can measure the back length by starting from the seam of the base of the neck to the bottom of your waist.
Please note that whenever you're going to choose your jacket using our men coat chart size/men jacket chart size, we suggest you pick a size that is two inches bigger than your actual size.
Description

Suicide Squad Joker Purple Trench Coat

What do you do when invited to a Cosplay in winters? You opt for this trendy Jared Leto Joker Coat which is a perfect balance between festivity and subtlety. Our villains surely know how to create an impact! This monochromatic trench coat is an inspiration taken from Jared Leto in his 2016 movie 'Suicide Squad.' The full sleeve, A-line coat is an exclusive piece for your wardrobe. The intricate crocodile design drenched in flashing purple color should be on your buy list for sure!

Are you tired of committing yourself to black and brown coats? It's never too late to add new colors to your collection. Do not hesitate to woo your friends on a fun Halloween night with this outfit. The great news is – you do not have to go way too overboard for this. Made with pure faux leather and embedded in viscose lining, this Jared Leto coat is a treat to wear.

The peak lapel collars and the two waist slant pockets add to the 'evil' vibes of this coat. This highly resilient and warm coat is a perfect pick for your wardrobe. Pair it with a grey turtleneck or a fancy undershirt and slay this coat like no other! Be it a cosplay, or a night out with friends, never go out of style with your outfit. This coat stirs magic, and you are the bearer of this magic! 

Product details include

·

     

100% PU Leather

·

     

Front Closure Buttons

·

     

Viscose Lining as the Interior

·

     

Two Inner and Two External Pockets

Additional information

| | |
| --- | --- |
| Size | X-Small, Small, Medium, Large, X-Large, XX-Large, XXX-Large |
Suicide Squad Joker Purple Trench Coat