Stylish Red Arrow Faux Leather Jacket
November 20, 2019
Stylish Red Arrow Faux Leather Jacket
Coming straight out of the CW comics, inspired by our favorite Superhero, Roy Harper, better known as Red Arrow, this jacket is an exquisite pick for all. Though Red Arrow has been an on and of character in the show, he clearly left an impact on the audience. This fashionable Red Arrow Jacket preps the wearer for all kinds of praises.
This Red Arrow Jacket has meshed into a labyrinth of laces, each beautifully crafted on the front and sleeves of the jacket. This body-hugging jacket is ensured to provide a comfortable experience to our customers, which is aided with a soft viscose lining. The symmetrical black zipper completed with a warm hood makes it suitable for cold weather. The long fitting sleeves are concluded with a metallic zipper, adding to the chic look this jacket provides.
20% Off & Free delivery - CODE: DEAL2023
MEN'S JACKET SIZE CHART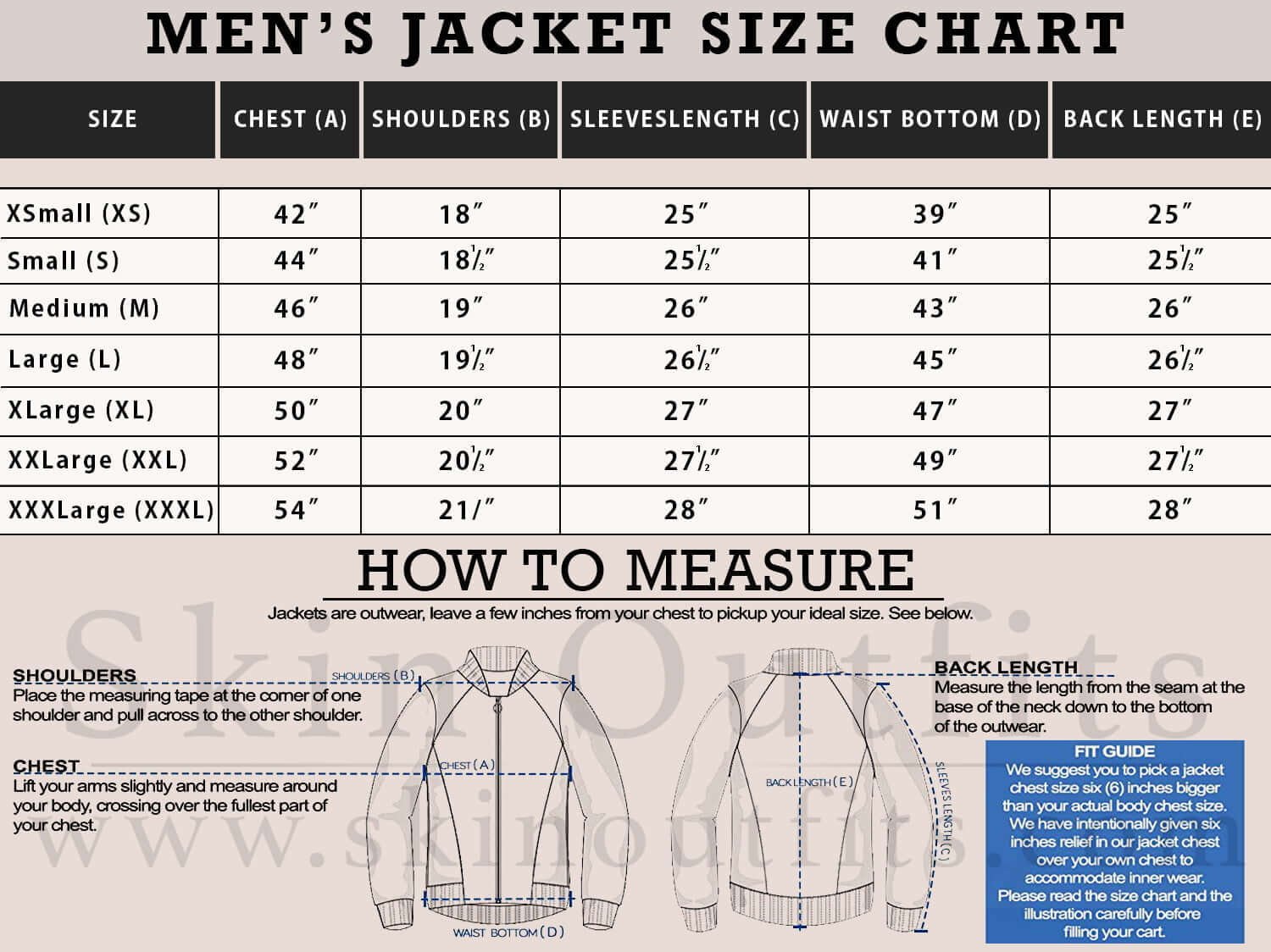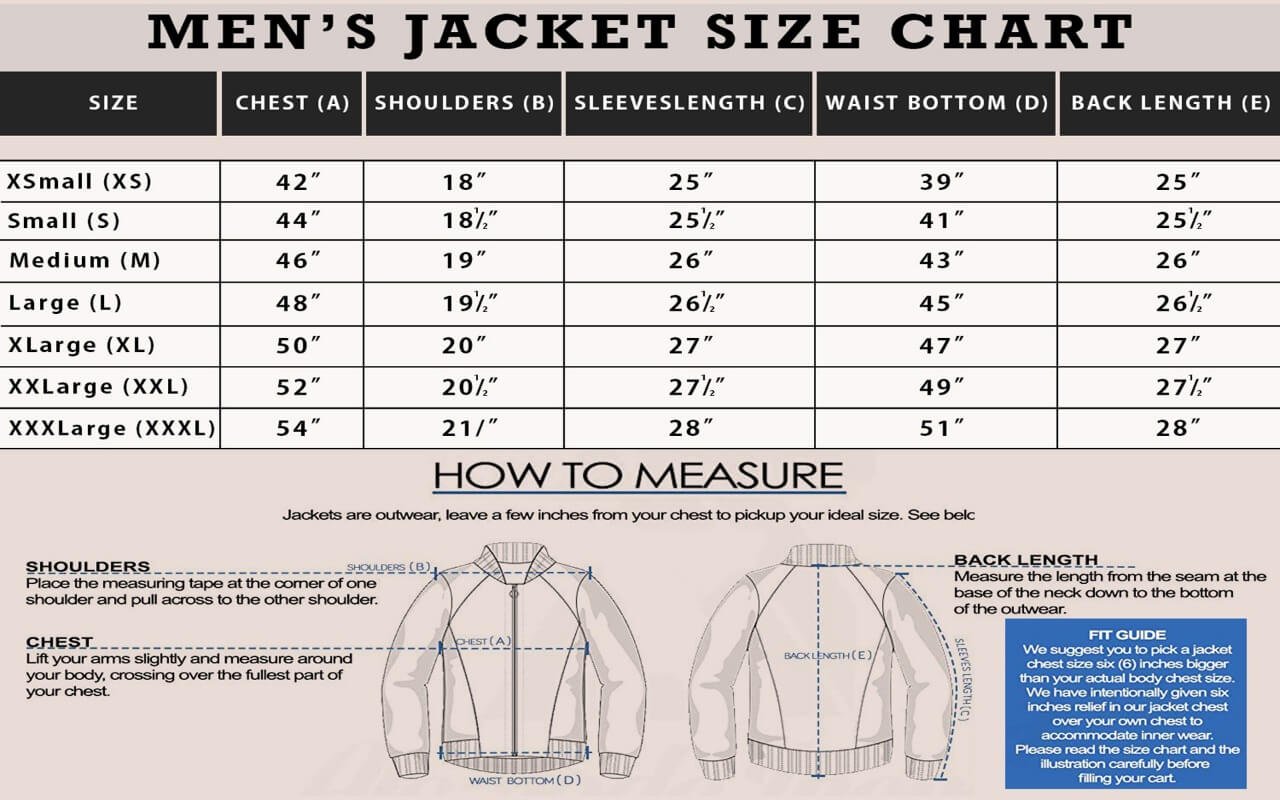 Men Jacket Chart Size
Looking for a jacket that fits your body like it's made just for you? We've got you. Skin Outfits provides you a complete range of sizes in its men coat chart size/men jacket chart size. Also, we give you the easiest way to measure your body because all your measurements are taken close to the body. Also, make sure you're not measuring over regular clothes or jackets.
Men's Measurements
Please follow the men coat chart size/men jacket chart size below to measure your size.
Chest: The chest is the major part of your measurement for the jacket. You must first stand up and then relax your arms. To have a better measurement, ask someone else to wrap the measuring tape around your chest. Make sure there is an inch space for the tape to move. For a regular fitting jacket, you may add an inch more.
Shoulders: Relax your shoulders and ask someone to measure using the tape from one shoulder end to another.
Sleeve: To measure sleeve length, bend your arm and lift it over the chest so you are able to touch your nose with your hand. From the bottom of the neck to the elbow and then to the wrist bone, measure thoroughly.
Waist Bottom: You will measure the waist as you've measured the chest, but with the exception that you'll take measurements from around the waist.
Back Length: You can measure the back length by starting from the seam of the base of the neck to the bottom of your waist.
Please note that whenever you're going to choose your jacket using our men coat chart size/men jacket chart size, we suggest you pick a size that is two inches bigger than your actual size.
Description

Stylish Red Arrow Faux Leather Jacket

Coming straight out of the CW comics, inspired by our favorite Superhero, Roy Harper, better known as Red Arrow, this jacket is an exquisite pick for all. Though Red Arrow has been an on and of character in the show, he clearly left an impact on the audience. This fashionable Red Arrow Jacket preps the wearer for all kinds of praises.

This Red Arrow Jacket has meshed into a labyrinth of laces, each beautifully crafted on the front and sleeves of the jacket. This body-hugging jacket is ensured to provide a comfortable experience to our customers, which is aided with a soft viscose lining. The symmetrical black zipper completed with a warm hood makes it suitable for cold weather. The long fitting sleeves are concluded with a metallic zipper, adding to the chic look this jacket provides.

The stunning red color makes the Red Arrow Jacket a perfect fit for those who love to go bold. As complex as the front is, the back is entirely opposite. Finished with V-shape stitching on the back, it restores the finesse. With its dominant style, the Red Arrow Jacket takes control of all the talking in town. You can never fall out of place once you adorn this beauty in a crowd. If there is something you need to add to your closet is, it is definitely this ideal clothing for all occasions!

Product Details Include:

Crafted with Genuine Faux Leather
Inner Viscose Lining
Quality Assured Stitching
Front Closure with YKK Zipper
Two Zip Pockets Outside and Two Internal Pockets

Additional information

| | |
| --- | --- |
| Size | X-Small, Small, Medium, Large, X-Large, XX-Large, XXX-Large |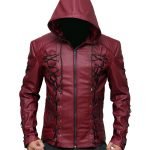 Stylish Red Arrow Faux Leather Jacket