Red Flannel Deadpool Jacket
March 1, 2018
Red Flannel Deadpool Jacket
Did we just spot a Ryan Reynold's fan from Deadpool here? Indeed, we did! The mantra is to gather some inspo from your favorite celebs and style it in your own way. Heavily inspired by Ryan Reynold's Deadpool jacket, this is a masterpiece in its own. The red and black checkered coat accentuates one's body with style. Made with 100% pure flannel, this jacket ensures sweat absorption and retains body heat which makes it an ideal fit for freezing temperatures. The faux shearling, along with the top-notch lapel collar provides warmth and comfort as needed. The product is finished with a central zipper, two exterior pockets lined with faux, and two inner pockets to keep your valuables safe. 
20% Off & Free delivery - CODE: DEAL2023
MEN'S JACKET SIZE CHART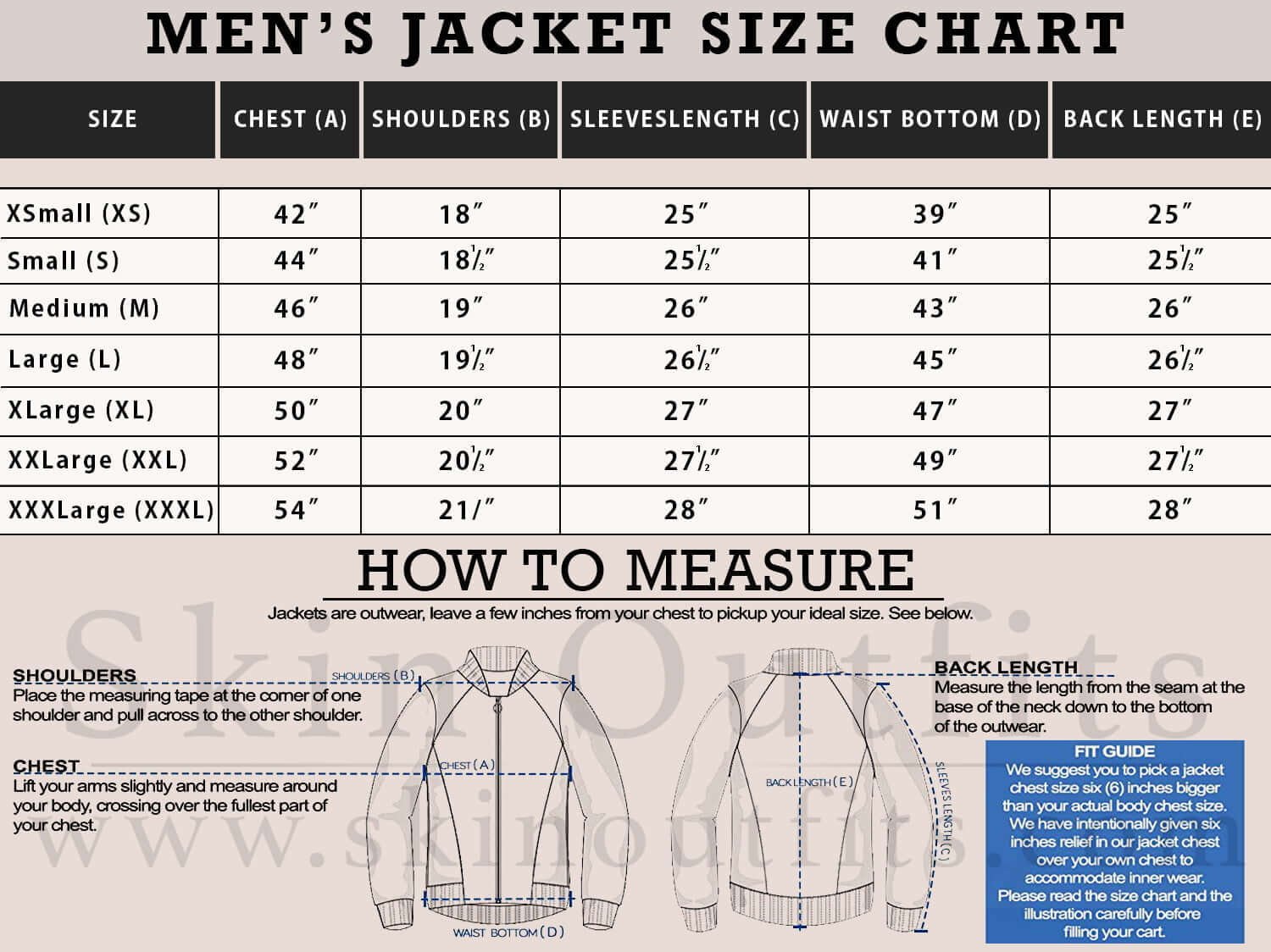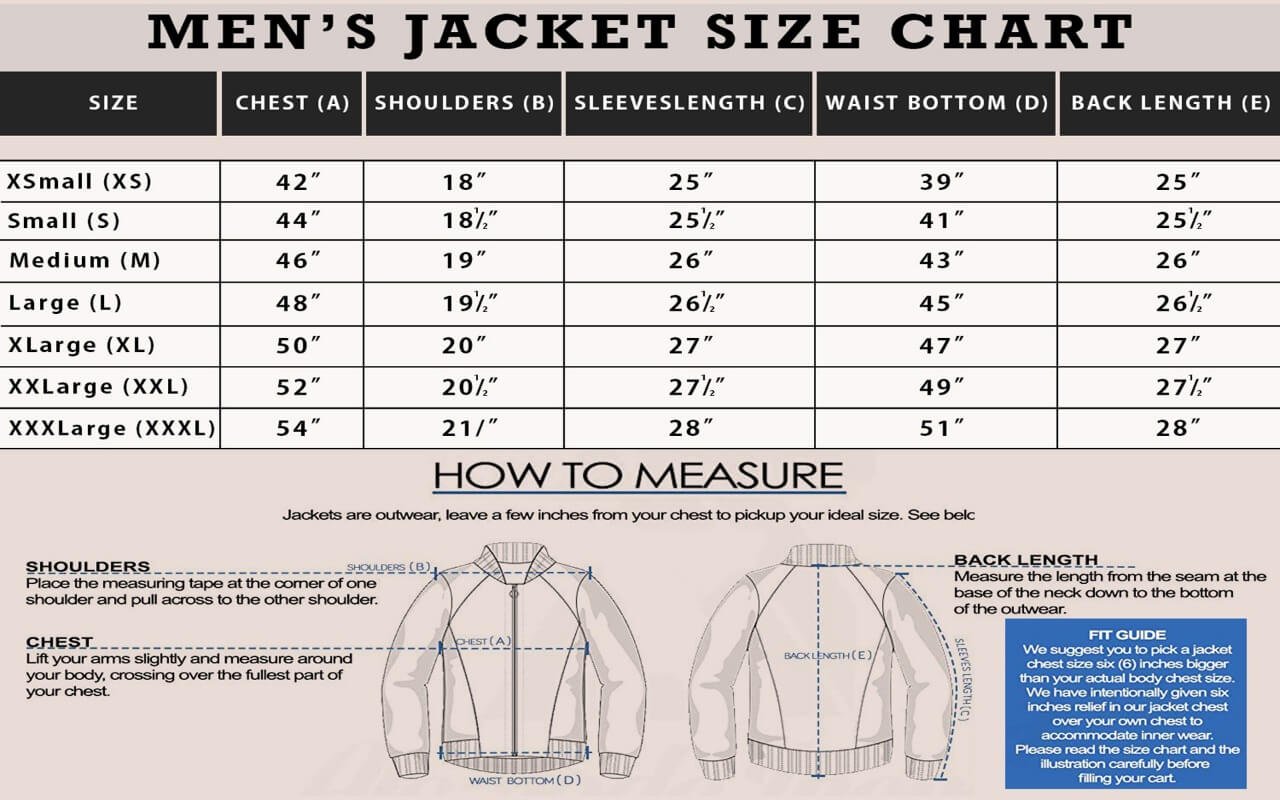 Men Jacket Chart Size
Looking for a jacket that fits your body like it's made just for you? We've got you. Skin Outfits provides you a complete range of sizes in its men coat chart size/men jacket chart size. Also, we give you the easiest way to measure your body because all your measurements are taken close to the body. Also, make sure you're not measuring over regular clothes or jackets.
Men's Measurements
Please follow the men coat chart size/men jacket chart size below to measure your size.
Chest: The chest is the major part of your measurement for the jacket. You must first stand up and then relax your arms. To have a better measurement, ask someone else to wrap the measuring tape around your chest. Make sure there is an inch space for the tape to move. For a regular fitting jacket, you may add an inch more.
Shoulders: Relax your shoulders and ask someone to measure using the tape from one shoulder end to another.
Sleeve: To measure sleeve length, bend your arm and lift it over the chest so you are able to touch your nose with your hand. From the bottom of the neck to the elbow and then to the wrist bone, measure thoroughly.
Waist Bottom: You will measure the waist as you've measured the chest, but with the exception that you'll take measurements from around the waist.
Back Length: You can measure the back length by starting from the seam of the base of the neck to the bottom of your waist.
Please note that whenever you're going to choose your jacket using our men coat chart size/men jacket chart size, we suggest you pick a size that is two inches bigger than your actual size.
Description

Deadpool Shearling Jacket Coat

Did we just spot a Ryan Reynold's fan from Deadpool here? Indeed, we did! The mantra is to gather some inspo from your favorite celebs and style it in your own way. Heavily inspired by Ryan Reynold's Deadpool jacket, this is a masterpiece in its own. The red and black checkered coat accentuates one's body with style. Made with 100% pure flannel, this jacket ensures sweat absorption and retains body heat which makes it an ideal fit for freezing temperatures. The faux shearling, along with the top-notch lapel collar provides warmth and comfort as needed. The product is finished with a central zipper, two exterior pockets lined with faux, and two inner pockets to keep your valuables safe.

The raging red as a base color jazzed up with black checker and the white faux lining is a perfect way to protect yourself from cold staying in style. This jacket is a treat to the customer's eye due to its flashing color. For any of you looking out to spend an uber-chic winter, you have stumbled upon the right piece! Pair it with either a denim jean or black pants; this jacket will mark its presence on its own. It's time you add this stunner to your closet because this never goes out of style! Bless yourself with the best or gift it to a Ryan Reynold fan to make their day.

Product details:

Sizes Available X-Small – XXX-Large
Pure Cotton Flannel Lined with Faux Shearling

Additional information

| | |
| --- | --- |
| Size | X-Small, Small, Medium, Large, X-Large, XX-Large, XXX-Large |
Red Flannel Deadpool Jacket