Top Gun Maverick Bomber Jacket
October 19, 2019
Top Gun Maverick Bomber Jacket
The Tom Cruise Top Gun Jacket
 Can you afford to miss the chance to twin with Tom Cruise? I bet one would say yes to it. The heartthrob was first seen wearing this feisty jacket in his movie Top Gun. This stunning, one-in-a-kind piece awaits to be added to your closet right now.
The Tom Cruise Top Gun Jacket features bold and colorful patches stitched to pure cowhide leather, which makes it an exception amongst the crowd. Adding this stunning piece to your collection allows you to experiment with a new look each time you wear it. For an added edge. Apart from being classy, the jacket plays a quintessential role in keeping you warm and cozy in winter. Lined with viscose and edged with fur, the Tom Cruise Top Gun coat is perfect in every way!
20% Off & Free delivery - CODE: DEAL2023
MEN'S JACKET SIZE CHART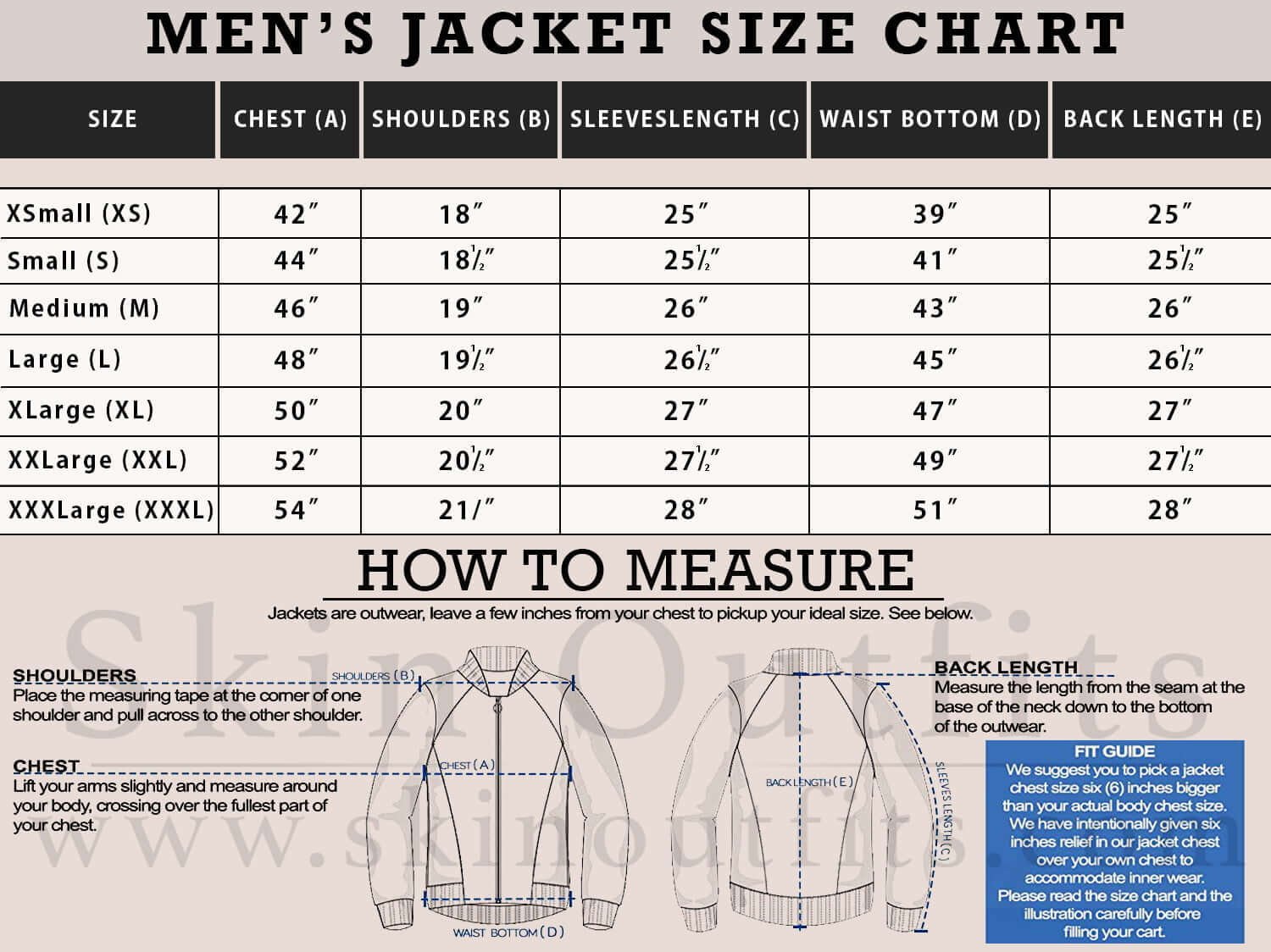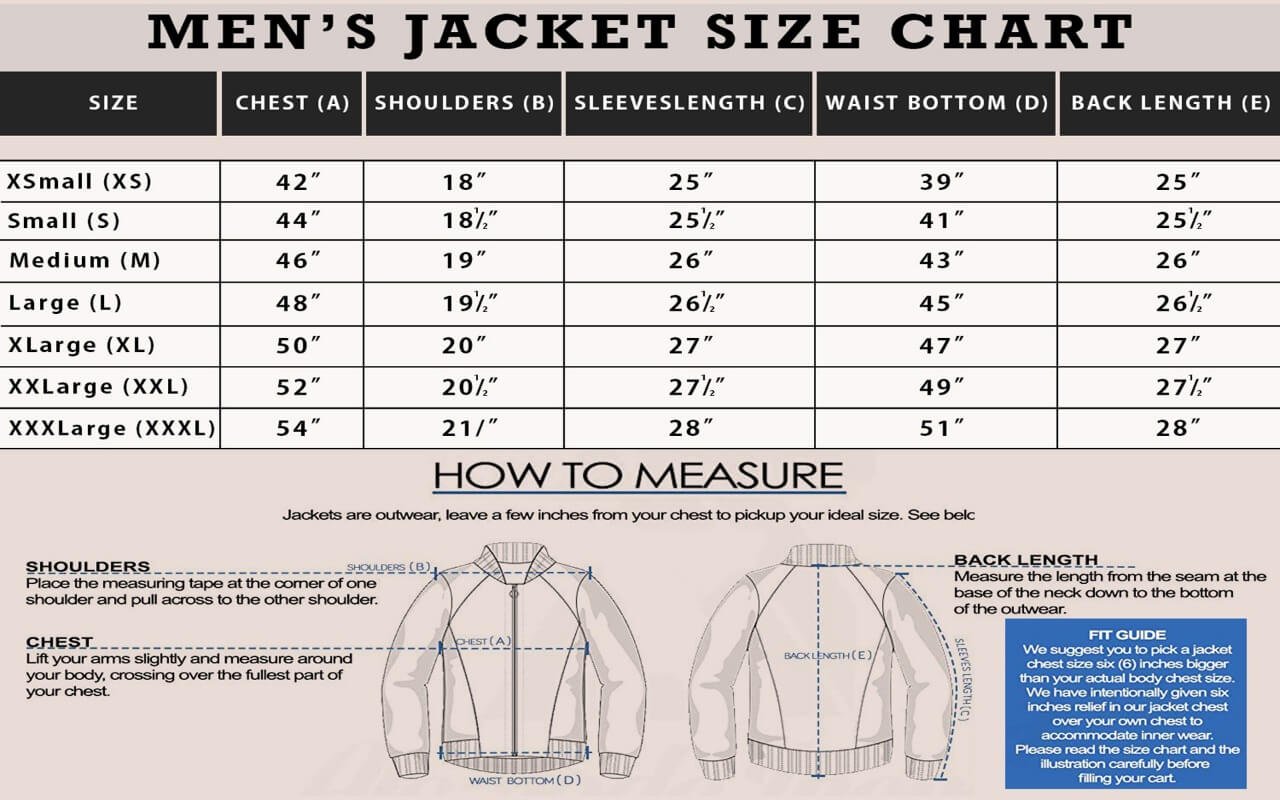 Men Jacket Chart Size
Looking for a jacket that fits your body like it's made just for you? We've got you. Skin Outfits provides you a complete range of sizes in its men coat chart size/men jacket chart size. Also, we give you the easiest way to measure your body because all your measurements are taken close to the body. Also, make sure you're not measuring over regular clothes or jackets.
Men's Measurements
Please follow the men coat chart size/men jacket chart size below to measure your size.
Chest: The chest is the major part of your measurement for the jacket. You must first stand up and then relax your arms. To have a better measurement, ask someone else to wrap the measuring tape around your chest. Make sure there is an inch space for the tape to move. For a regular fitting jacket, you may add an inch more.
Shoulders: Relax your shoulders and ask someone to measure using the tape from one shoulder end to another.
Sleeve: To measure sleeve length, bend your arm and lift it over the chest so you are able to touch your nose with your hand. From the bottom of the neck to the elbow and then to the wrist bone, measure thoroughly.
Waist Bottom: You will measure the waist as you've measured the chest, but with the exception that you'll take measurements from around the waist.
Back Length: You can measure the back length by starting from the seam of the base of the neck to the bottom of your waist.
Please note that whenever you're going to choose your jacket using our men coat chart size/men jacket chart size, we suggest you pick a size that is two inches bigger than your actual size.
Description

Tom Cruise  Top Gun Maverick Jacket

 Can you afford to miss the chance to twin with Tom Cruise? I bet one would say yes to it. The heartthrob was first seen wearing this feisty jacket in his movie Top Gun. This stunning, one-in-a-kind piece awaits to be added to your closet right now.

The Tom Cruise Top Gun Jacket features bold and colorful patches stitched to pure cowhide leather, which makes it an exception amongst the crowd. Adding this stunning piece to your collection allows you to experiment with a new look each time you wear it. For an added edge. Apart from being classy, the jacket plays a quintessential role in keeping you warm and cozy in winter. Lined with viscose and edged with fur, the Tom Cruise Top Gun coat is perfect in every way!

The jacket leaves no stone unturned in marking its presence. The comfy leather is a pure bliss to adorn your body. No one can stop you from pulling off an exquisite attire when this jacket is put together with denim jeans and fancy sneakers. This timeless beauty is something you can't resist to add to your shopping cart.

Perfect for a night out or a casual lunch, this jacket wins all the points for the owner.. The stunner piece is an absolute delight. With the striking colors and flashy logos, you can never get bored with the variety of experiences this jacket will provide you with. So much for so little, the Tom Cruise inspired jacket is such a thriller in every aspect.

Product Details Include:

Available in all sizes ranging from X-Small to XXX-Large
Brown Sheepskin leather
Amber Furred Collar
Soft Polyester Lining
Two External and Two Internal Pockets
High-Quality Brass YKK Zipper for the Front Closure

Protection

Dry Clean only

Should be washed and dried separately from the load
Avoid dying with other clothes

Additional information

| | |
| --- | --- |
| Size | X-Small, Small, Medium, Large, X-Large, XX-Large, XXX-Large |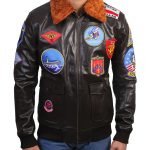 Top Gun Maverick Bomber Jacket